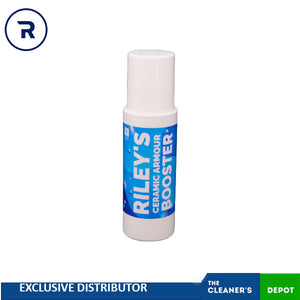 Riley's Ceramic Armour Booster is designed as a maintenance product for your Ceramic Coating. This Booster rejuvenates your coating and brings back superior hydrophobic and water beading properties that everyone loves! Ceramic Armour Booster is extremely versatile and easy to apply Ceramic quick detailer that gives a brilliant shine, durable weather protection, and amazing hydrophobic properties in minutes.
How to Use:
Simply Spray a generous amount to a clean surface that is free from contaminants and impurities then wipe off with a microfiber towel.
Product name: Riley's Remove Extra Strength Acid Rain/ Water Spot Remover
Product Description:
Riley's Remove Extra Strength Acid Rain/ Water Spot Remover is a professional grade acid based Water Spot Remover that is extremely efficient in eliminating those dreaded water spots and other contaminants in Glass and painted surfaces. Our Water spot remover can be used on both glass and painted surface as part of the chemical decontamination process to allow for a quicker mechanical decontamination and a better paint correction experience.
How to Use:
Give your car a good wash to remove surface dirt
DO NOT DRY your car
Apply our water spot remover in a cross hatch pattern to a WET surface
Rinse immediately
Warning: This product is harmful to Glass,  Paint, Plastic, and Rubber surfaces if not Rinsed immediately and thoroughly. Wear Gloves when using this product.