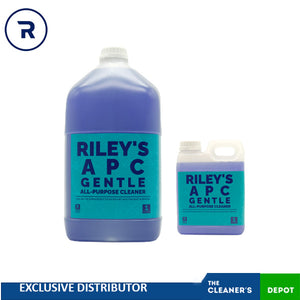 RILEY'S ALL PURPOSE CLEANER is your all-around cleaning buddy. Its high-tech formulation makes it tough on dirt but easy on surfaces. We can remove filth, grease, and grime from almost all surfaces like plastics, metals, painted surfaces, fabric, leather and rubber without damaging the surface or changing its texture or look .

Dilution Ratio: 1:5 up to 1:10

Directions: Just spray on to the microfiber towel and wipe away with a microfiber towel . Using soft to medium brushes will help you get those stubborn stains even quicker.


WARNING! May be harmful if swallowed, may be harmful if in contact with skin. Causes serious eye irritation, may be harmful if inhaled.

If medical advice is needed, have product container or label at hand. Keep it out of the reach of children. Read the label before use .

IF SWALLOWED: Call a POISON CONTROL CENTER or doctor/ physician if you feel unwell .

IF INHALED: Remove person to fresh air and keep comfortable for breathing Call a POISON CONTROL CENTER or doctor/physician if you feel unwell .

IF IN EYES: Rinse cautiously with water for several minutes. Remove contact lenses, if present and easy to do. Continue rinsing. If eye irritation persists, get medical advice/attention .